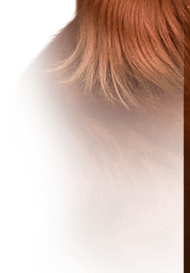 My life with Irish Setters started in 2004 when I was 16 years old. After our two Dachshunds suddenly passed away, it was certain that our family can't be without a dog. The decision to include an Irish Setter to our family was made by my father who has loved Setters for a long time. Even though I at first protested and did not want a Setter, Dor z Hosteckých vrchů joined our family in August 2004 and I immediately fell in love with him. Together we discovered the joys of shows, hunting and with assistance of Dor's breeder Honza Drozd (z Hosteckých vrchů kennel) we managed to include Dor in the breeding programme. Dor made an impact on Irish Setters in the Czech Republic by siring 13 litters. It is Dor to whom I owe everything. He taught me to love Irish Setters.
After several years we started thinking about purchasing a bitch, future breeding foundation. And so after two years of research we chose Artemis Elimar Doubrava aka Daisy. Daisy fulfilled all my dreams and was accepted to the breeding programme at 16 months of age. For me she is such an exceptional bitch that I had decided to name my kennel name after her. Our kennel was registered in 2011 - DAISY RAIN.
In 2013 I imported a young puppy from Lithuania, from the world known Karmino kennel - Karmino Made Oleander. I hope he will have the qualities of his ancestors and that he will make an impact in the breeding programme.
All our dogs have, aside from their show and hunting carriers, the role of our pets and house dogs. We socialize them since young age as much as possible. They are a part of our lives, they join us everywhere - on trips, on holidays and in restaurants.. And we are often rewarded by getting compliments on how well behaved our dogs are,
My goal is to breed healthy and beautiful puppies with a good temperament and to choose the best possible owners for them. Don't expect us to have puppies every year. We breed for fun and not to make money. Every day I am in touch with foreign breeders from whom I gain knowledge and experience. Every breeder has always a lot to learn.
If you are interested in Irish Setters, you are at the right address. Please do not hesitate to contact me should you have any questions.
Hana Bočková
KENNEL DAISY RAIN