31.12.2021 - PF 2022
Merry Christmas and happy new years!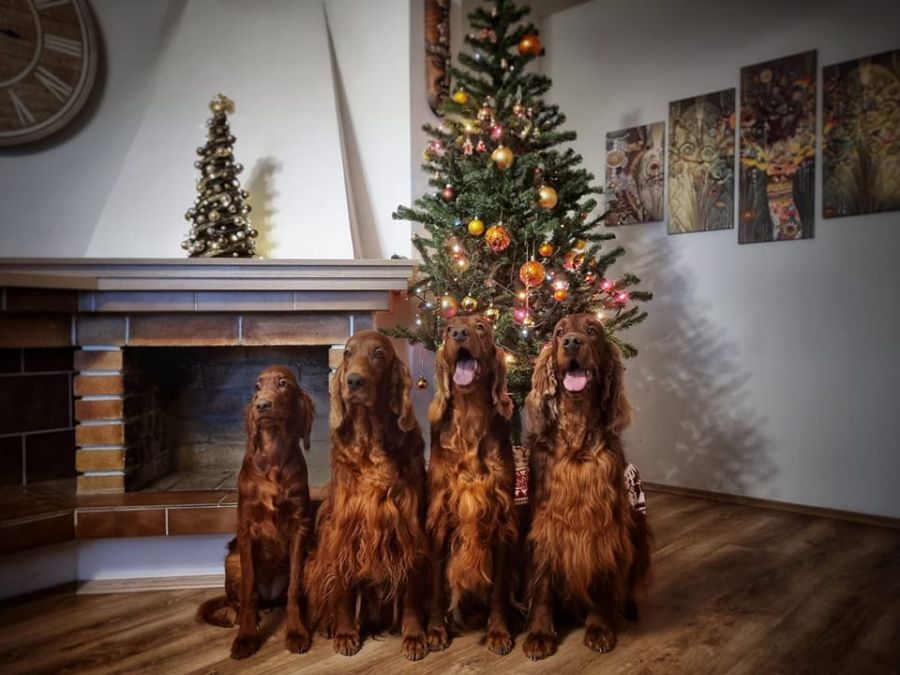 29.12.2021 - EUROPEAN DOG SHOW BUDAPEST
The very first show premier for the little one!
Eureca Daisy Rain "Ari" - very promising 2
23.10.2021 - IDS SALZBURG
Judge: Hana Ahrens
Aaron Arno Redweed - Exc.1, CACA res. CACIB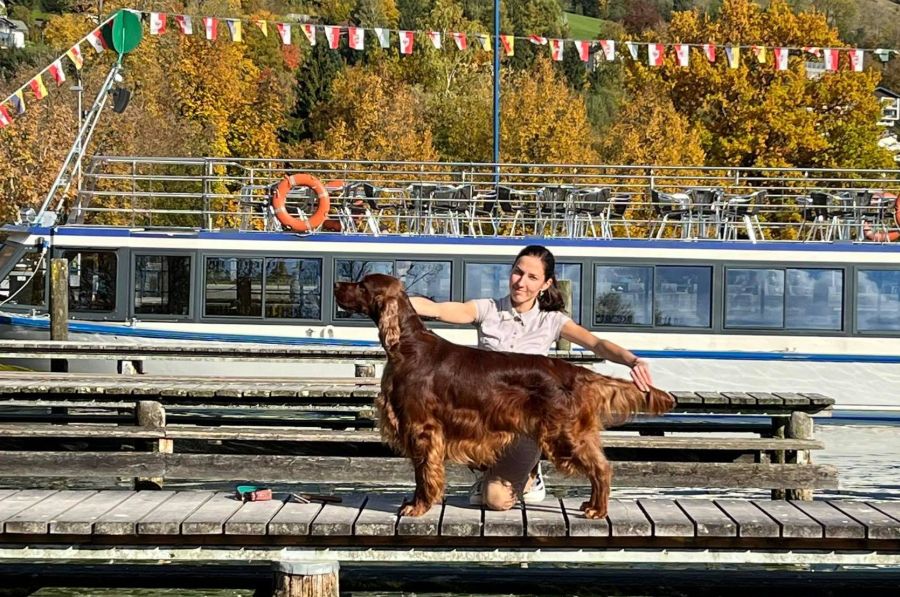 10.10.2021 - CLUB T.A.N. MSKAO
Bruno Mars Daisy Rain - 1st prize
The last of obligatory conditions to become a stud male for Bruno.
9.10.2021 - IDS ČESKÉ BUDĚJOVICE
Aaron Arno Redweed - Exc.1, CAC
Delly Daisy Rain - Exc.2/4 res. CAC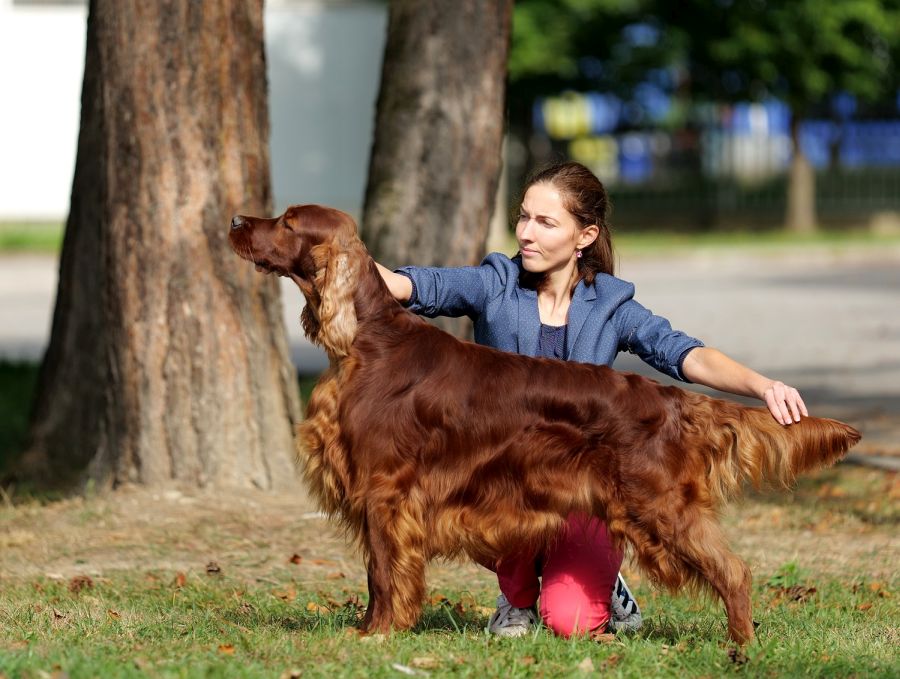 10.9.2021 - ALL THE PUPS ARE WITH THEIR NEW FAMILIES NOW
The two summer months webnt very fast and our puppies are with their new homes now. I was choosing their new owners very carefully and so I hope all will go well. One of the girls stays with us as a new forever memeber of our pack.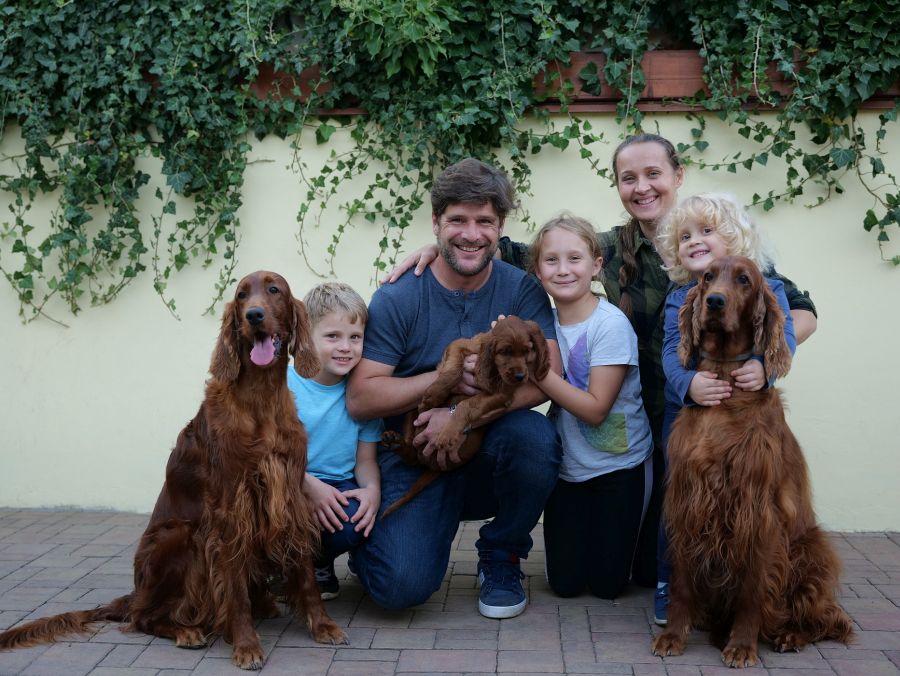 29.8.2021 - BLACK JACK DAISY RAIN IS ALLROUND DOG!
We have next allround breeding. Andy (Black Jack Daisy Rain) took it to the top with his owner Lada. They ended up with 2nd prize and 466/4 points. There are no words to express how proud we are. Andy is Lada's first dog ever and together with clever trainer Miroslav Varga, Andy could develop his full potential.
Congratulations!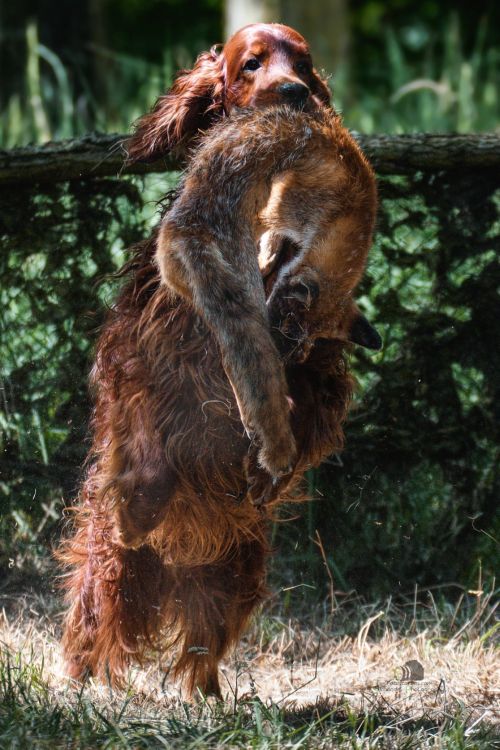 21.8.2021 - DIANA PASSED AUTUMN HUNTING TESTS
Diana passed the tests with 1st prize! She also got her licence as a hunting dog.
14.8.2021 - IDS BRNO
Cinzano Daisy Rain - Exc.1, CAC, res. CACIB, Czech champion!
Congratulations and thank you to owners Dajana and Jaromir.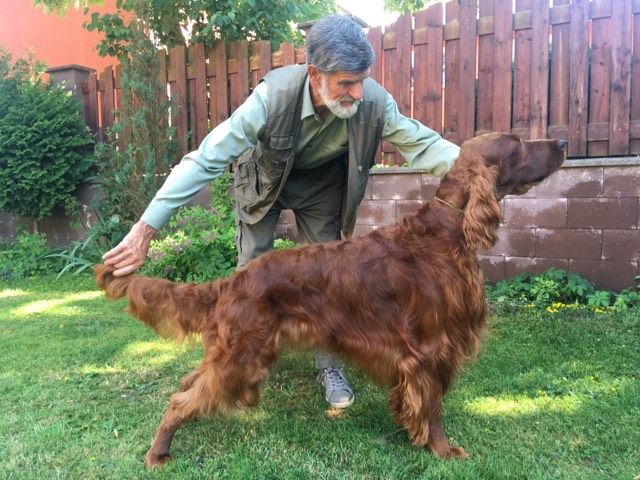 14.8. 2021 - DOLCI LEFT OVER THE RAINBOW BRIDGE
Dolci left us enexpectedly and fast after an illnes. He is deeply missed by us all.

I still remember like it was yesterday when we first met him. He was such a happy and lovely being.

We hope that the pain of losing him will pass and we will remember him again with smile. We have experienced so much together!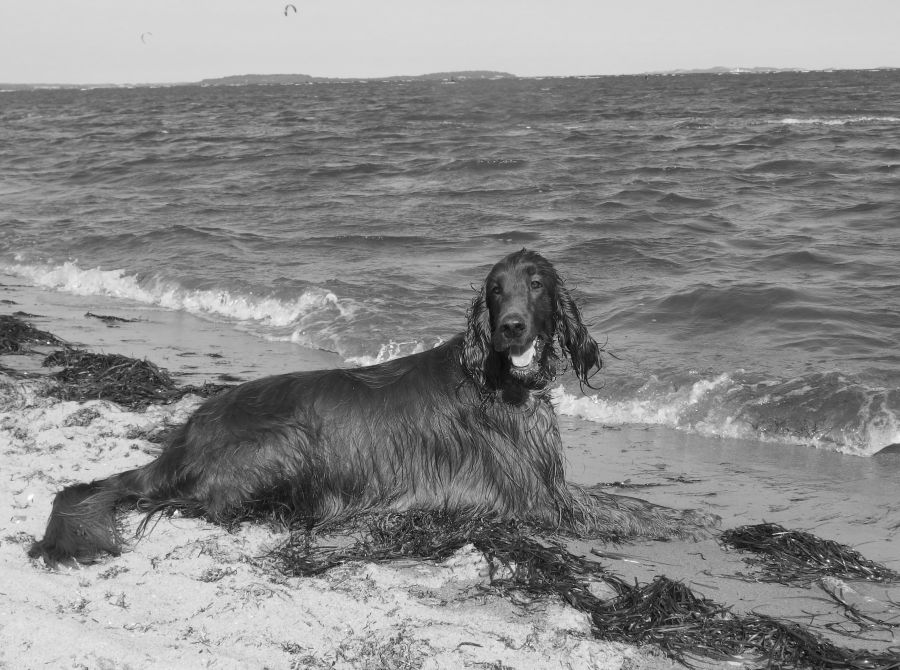 31.7.2021 - IDS KLATOVY
Aaron Arno Redweed - Exc.1, CAC, res. CACIB
Delly Daisy Rain - Exc.1, CAC, CACIB, BOS

16.7.2021 - WE HAVE PUPPIES
Our Bety became mother 16th July, when she gave birth to the litter "A". We have lovely 10 babies - girls and 3 boys. Bety is great mum supported by our Bety.
All puppies are booked already.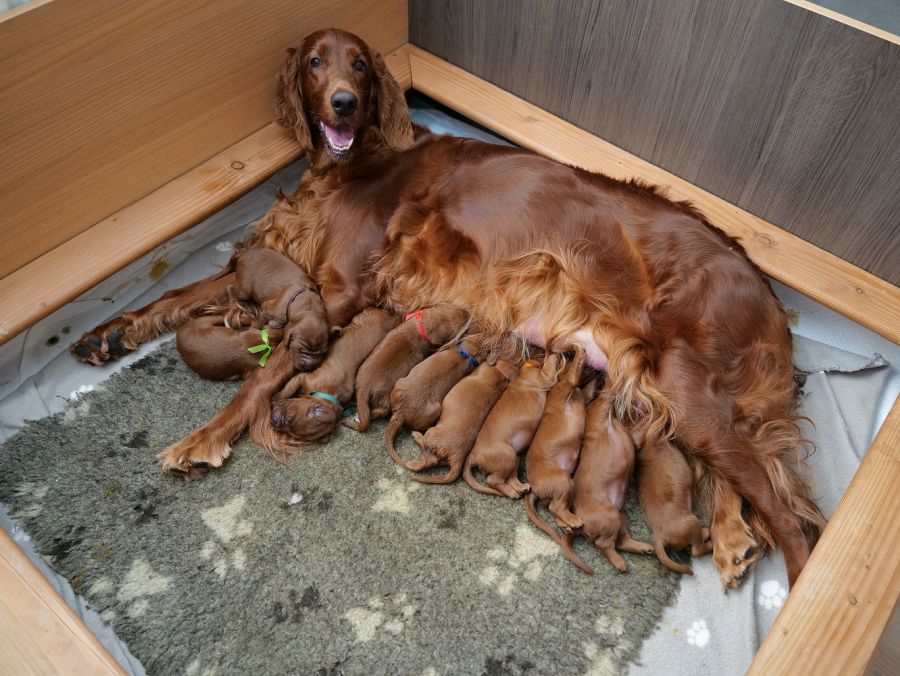 11.7.2021 - CLUB SHOW NÁMĚŠŤ NA HANÉ
Cinzano Daisy Rain "Cir" got CAC in working class under Mr. Kalich!
His owners also did all the necessary paperwork and Cir is now registered stud male in MSKAO!
Congratulations to his owners!
10.7.2021 - ARNO IS AGAIN CLUB WINNER!
Club show of MSKAO judged by breed specialist from Belgium Ronny Blomme.
There was over 50 IS entered.

Aaron Arno Redweed (working class) - Exc.1/3, CAC, CLUB WINNER MSKAO!!!
Black Jack Daisy Rain (working class) - Exc.3/3
Dorianne Daisy Rain (open class) - Exc.4/7
Daiquiri Daisy Rain (working class) - Exc.1/3 CAC

26.6.2021 INTERCANIS BRNO
Daiquiri Daisy Rain - Exc.1, CAC, now fully qualified for Czech Champion
Cinzano Daisy Rain - Exc.1
Congratulations!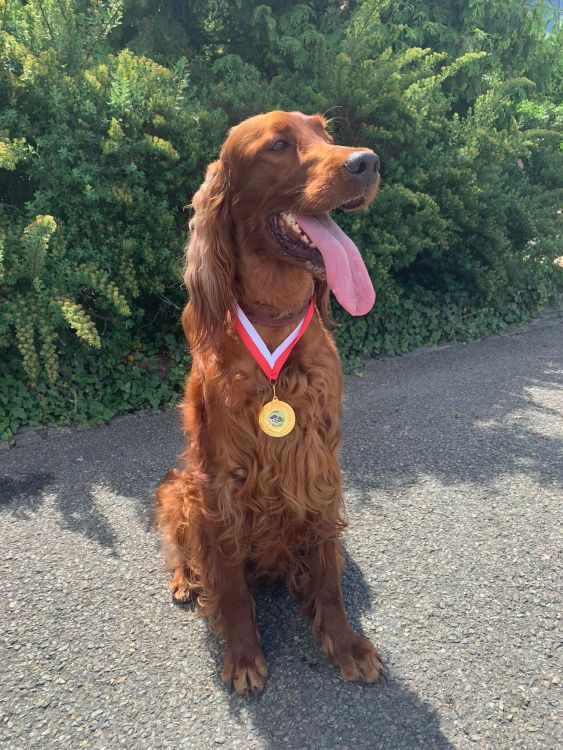 Daiquiri Daisy Rain
20.6.2021 - WE HAVE CLUB WINNER!
This year we do not plan many shows, but club shows must be!
First of them was Club show ČPSK in Konopiště judged by Mr. Formánek.

Aaron Arno Redweed (working class) - Exc.1/3, CAC, CLUB WINNER, BIS working dog
Agar Akimbo Daisy Rain (open class) - Exc.1/3
Amore Mio Daisy Rain (winners class) - Exc.3/4

The very same day our breeding Kira was entered to TAN (ZV) tests and they came up very well!
Daiqiri Daisy Rain - 222/4 pt., 1st prize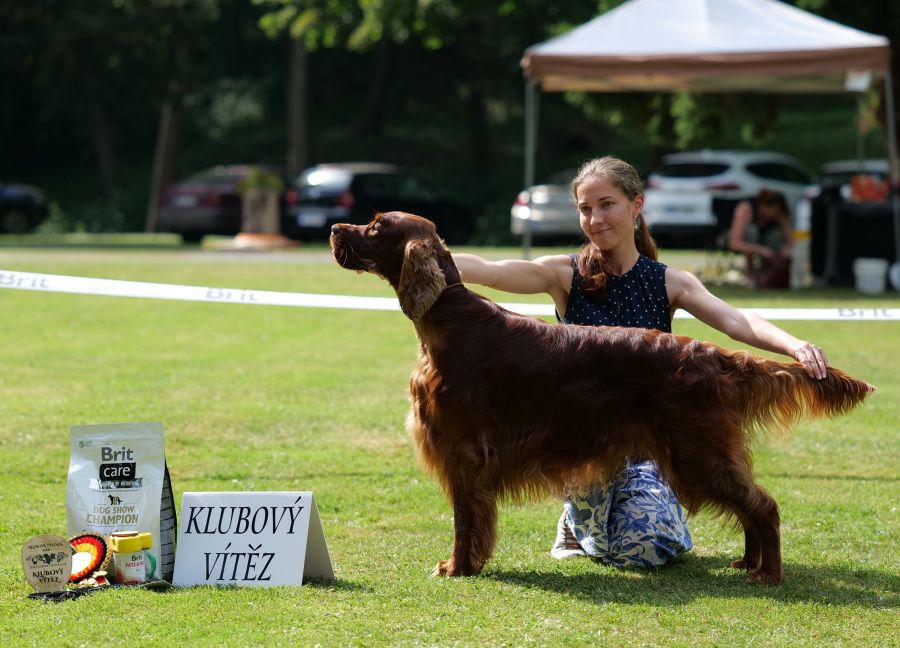 15.6.2021 - DAISY HAS BIRTHDAY
Alreafy for 11 years we enjoy the presence of the loveliest dog being called Daisy. She is still well and healthy, has a great appetite and always look forward to join as on the hunt.
We wish her all the best!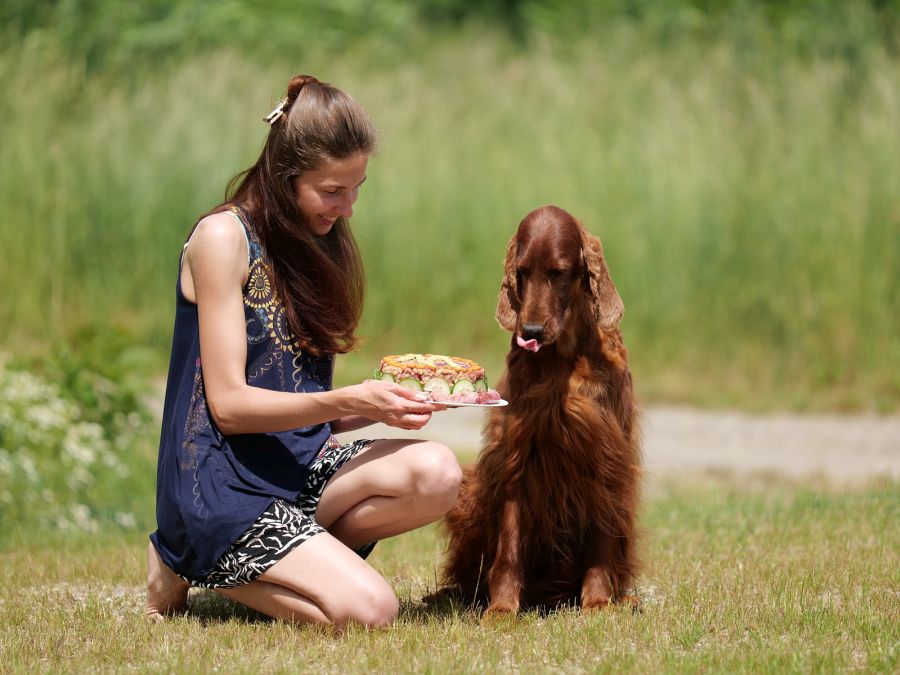 4.-5.6.2021 - SHOW SEASON BEGUN
4.6. NDS BRNO - Daiquiri Daisy Rain - Exc.2/2 res. CAC
5.6. IDS BRNO - Aaron Arno Redweed - Exc.1/2, CAC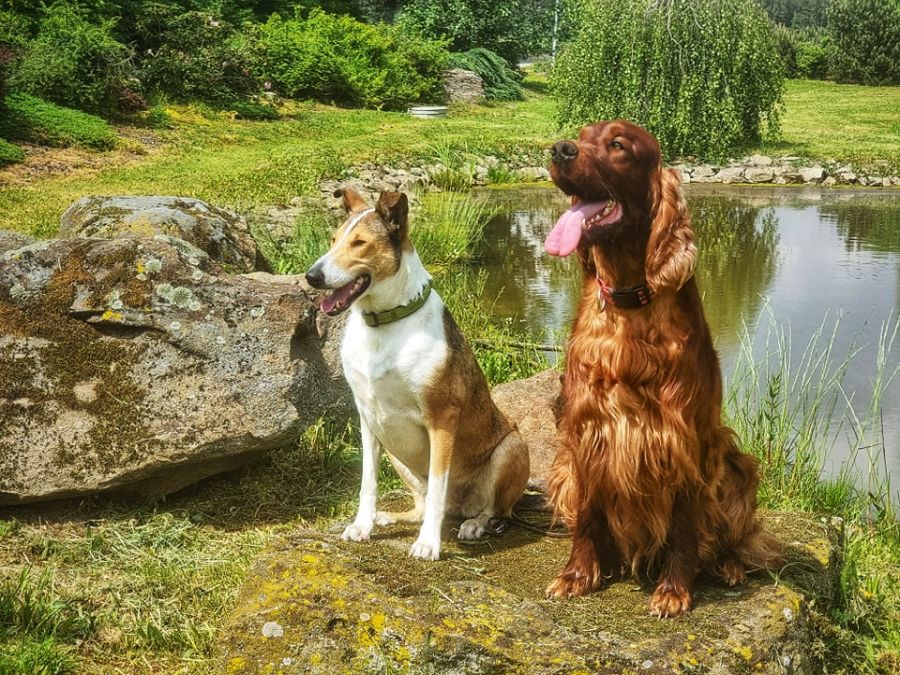 22.5.2021 - SUCCESSFUL MAY
May was filled up with great news!

Daiquiri Daisy Rain
- 22.5. Ostrava: TAN (ZV) 1st prize (225/4 pt.)
- 9.5. Ostrava: Autumn tests (PZ) 1st prize & winner (289/4 pt.)
Kira now met the very last condition to become brood bitch.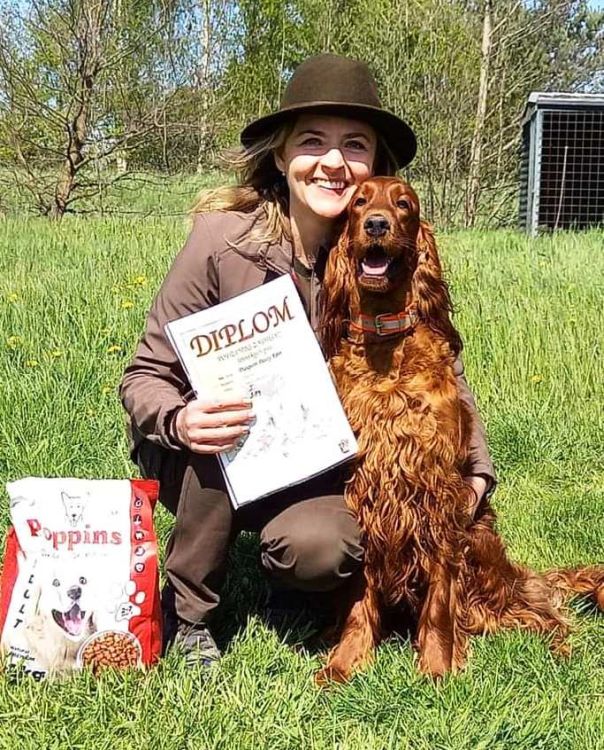 Delly Daisy Rain
- HD A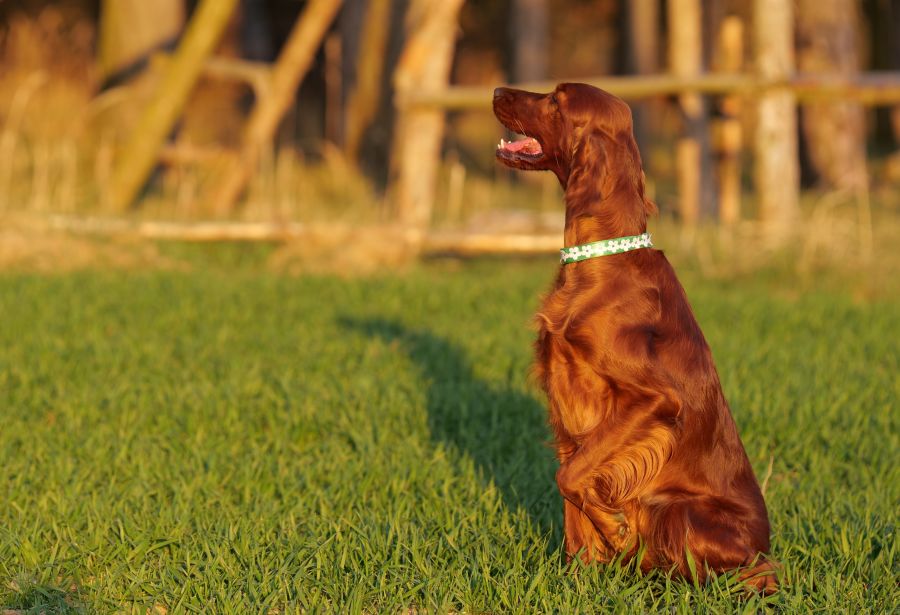 Dorianne Daisy Rain
- HD A, ED 0/0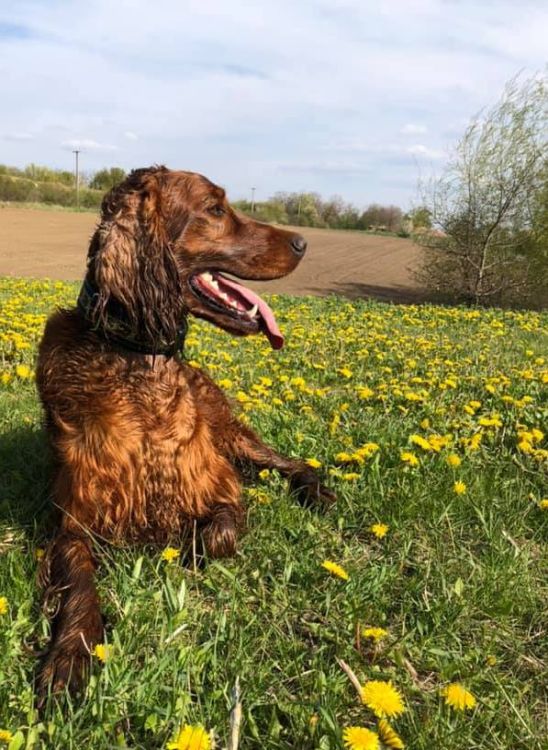 Aaron Arno Redweed
- 22.5. Třebíč: Autumn tests (PZ) 1st merit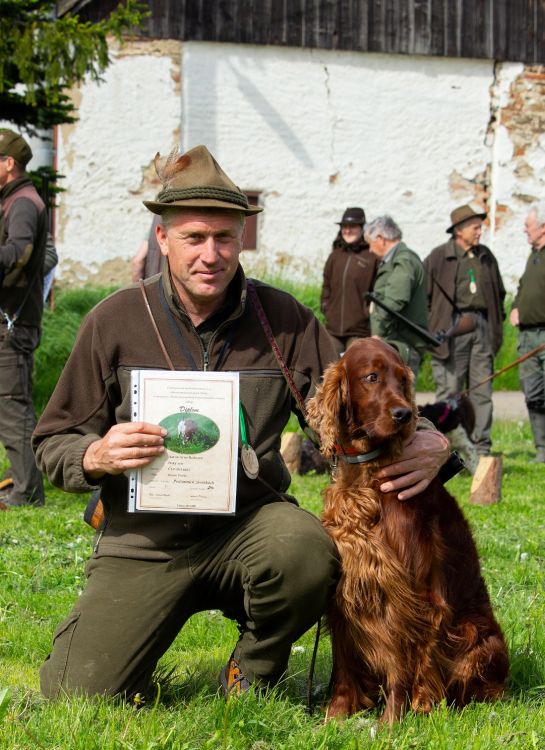 19.4.2021 - LITTER "C" CELEBRATED 4 YEARS
Our "homemade" litter by Dolčí and Daisy is now 4 years old. Both parents are still well and healthy and wish their children all the best for their birthday. On the photo below is Corona, who runs agility with her owner. Massive thanks to all for all the birthday photos!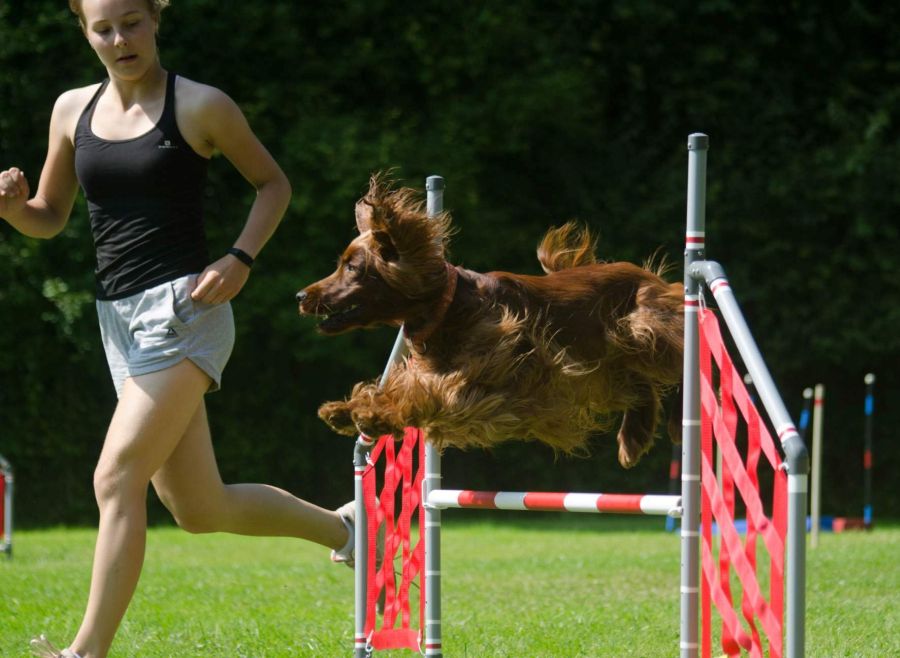 13.4.2021 - ARNO HAS BIRTHDAY
Aaron Arno Redweed celebrated his 2nd birthday. As a gift he got a grooming and photo session, which means I am not being his favourite person for a while.
Aarno is now also registered stud male, you can find more info about him at his own website.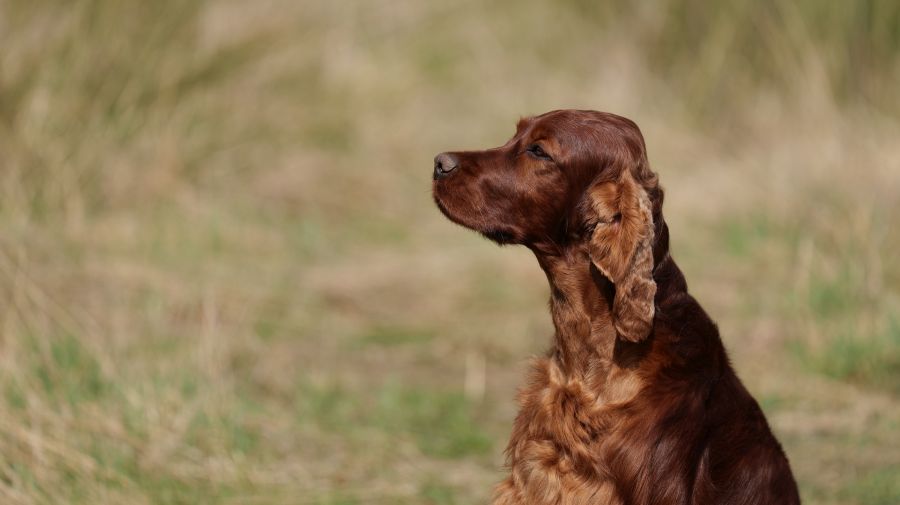 10.4.2021 - DELLY THE BRIDESMAID
Owner of Delly got married and we have got a lovely invitation for the wedding party. We are very happy that owners of our puppies consider us part of their family as well.
We wish her good luck in the marrige!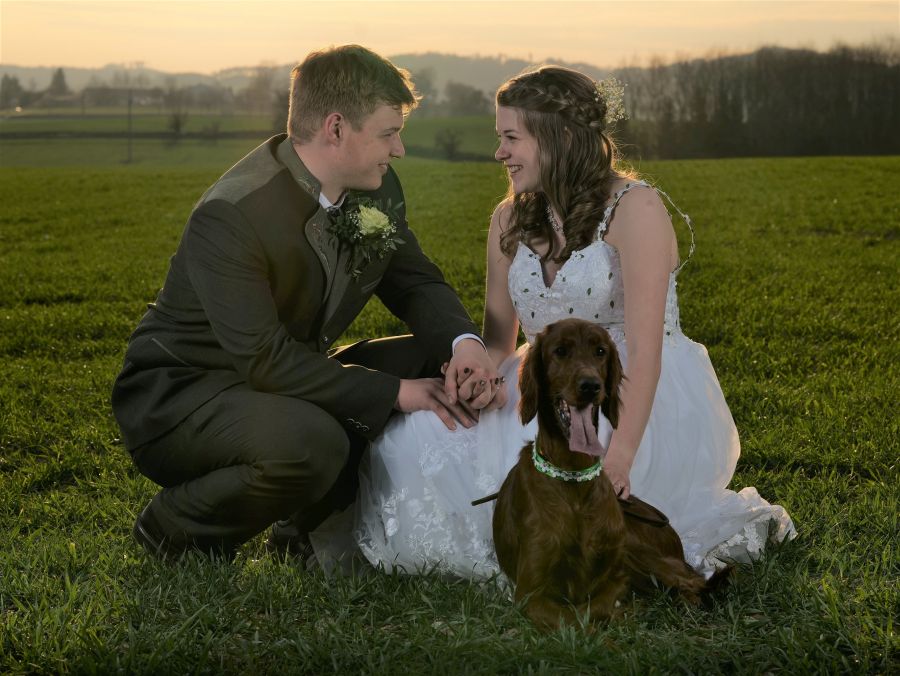 26.2.2021 - HUNTING SEASON HAS ENDED
This winter our dogs enjoyed hunts more then ever. All other activities were canceled but not hunts.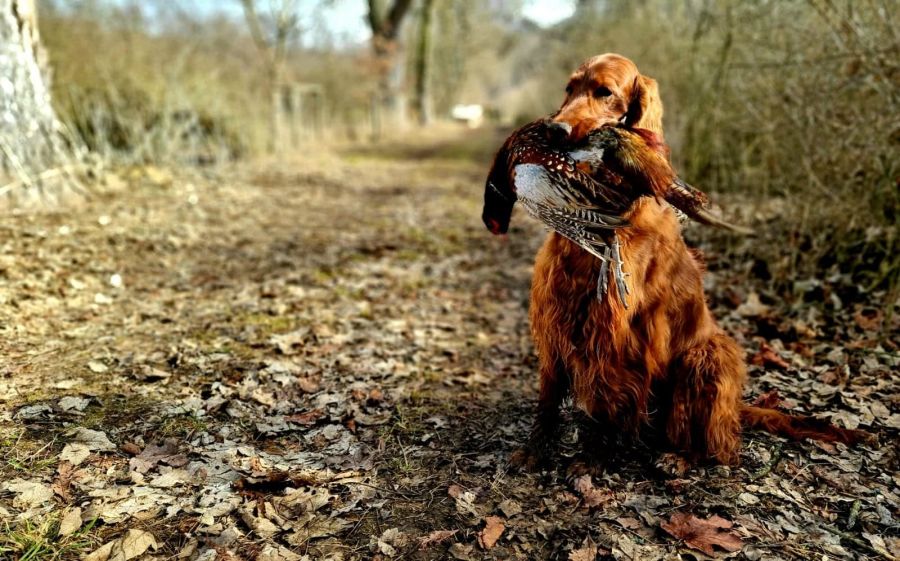 28.1.2021 - ANDY'S PREMIERE IN PHEASANTRY
Andy (Black Jack), brother to our Betty, spent the last year training for hunting tests. He passed all of them and so we decided to try him in practice and invited him and his owners Láďa & Eva to the hunts in pheasantry. Andy did amazing job together with his sister Betty.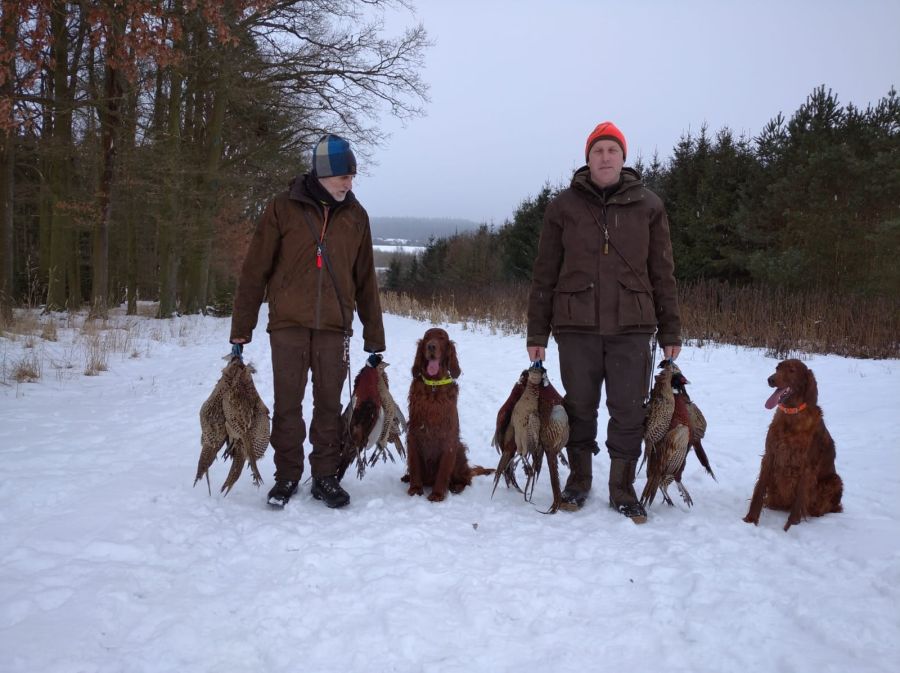 25.1.2021 - BIRTHDAYS
During January we have many opportunities for birthday parties:

20th January - 2nd birthday of our litter "D" ( Betty x Muffin)

13th January - 5th birthday of the litter "B" (Daisy x Zaki). Our of this litter we kept at home a girl named Betty, who will be mother in autumn of this year.

9th January - 1st birthday of our daughter Ina.

4th January - 8th birthday of our Dolčí, who became officialy veteran but he is still crazy lithuanian full of energy.

All the best, we love you all to the moon and back!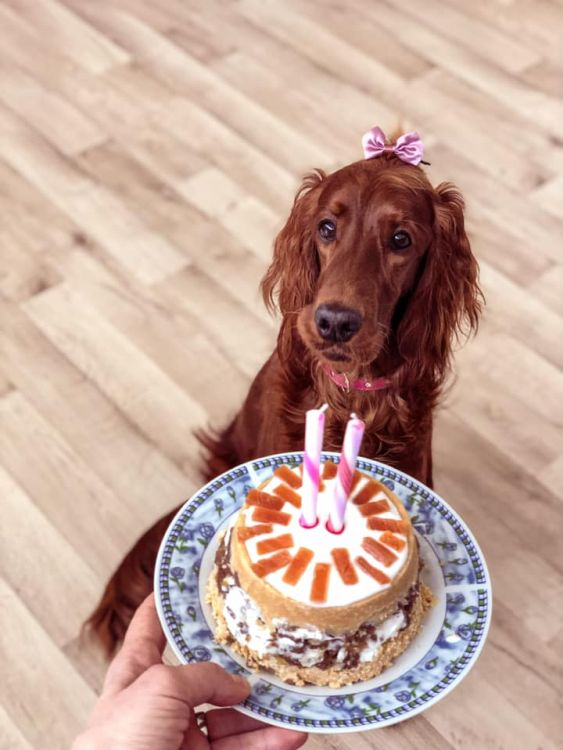 YEAR 2020 ->